After the sale of Ocala Florida farm in 2015 Gunnar & Birgit now divide time between the farm and native Denmark ( Photo below ) and their Wellington home . That is when Gunnar is not extremely busy doing clinics up and down the US east coast
Gunnar and Birgit's South Eastern Vermont Estate
located in Chester, VT is for Sale
Please contact Gunnar Ostergaard at gunnaros@aol.com 352.875.1551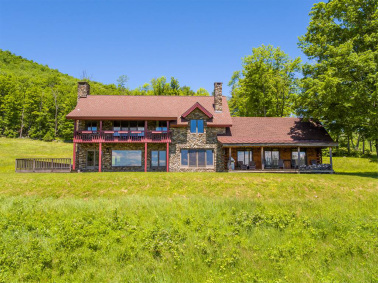 Gunnar & Birgit's 245 acre stone & log home in the Green Mountain State of Vermont is for sale. This house is 3800 sq feet with incredible unspoiled views and a half mile long private driveway at the end of town road for total privacy. This house is located four miles from the historic town of Chester,
four hours from Manhattan and two and a half hours to Boston . The Lovely home features 4 bedrooms; a master bedroom suite with " his and her " baths; two wood stoves, and two stone fireplaces.

---
News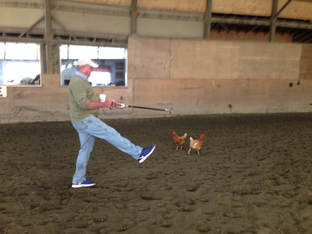 Gunnar got a bit carried away after 9 straight clinic days !!!
"I ride with Gunnar in the USA. He has been training us well!!! My horses don't do so well but our real joy is the gaits he has brought to our chickens!!! He works for hours (we have 5). They are winning at the FEI levels. Aren't we all so fortunate to have him!!! 😂❤️😂Maybe when Denmark has chicken dressage we can bring them to compete!!"
​​ -Current Student of Gunnar's.
Gunnar was offered the possibility to train the Columbian dressage team toward Central American and Pan American games. After giving the opportunity serious thoughts Gunnar has declined due to too many obligations in the United States , as well as training of personal horses in Denmark.
Congratulations to Heidi Haure-Gill on a very successful show at The Green Mountain Horse Association ( GMHA ) dressage days in Woodstock, Vermont in July, including winning Prix St. George on Saturday.
---
Gunnar's Schedule
July
​5 Travel from Copenhagen, Denmark - New York, New York USA
6 Chester, Vermont
7 - 8 Enfield, New Hampshire
10 Harrisonburg, Virginia
12 Aiken, South Carolina
15 Columbia, South Carolina
17 Harrisonburg, Virginia
18 Old Brookeville, Long Island, New York
20 Chester, Vermont
21 Burlington, Vermont
23 Providence, Rhode Island
24 Enfield, New Hampshire
25 Chester, Vermont
26 Enfield, New Hampshire
27 - 29 Dressage days show: Woodstock, Vermont
30 Travel New York, New York USA - Copenhagen, Denmark

August
26 Travel from Copenhagen, Denmark - New York, New York USA
27 Lessons: Chester, Vermont
28 Clinic: Enfield, New Hampshire
30 Clinic: Providence Rhode Island


September
1 - 3 Clinic: Portland, Maine
4 Clinic: Bennington, Vermont
5 - 6 Clinic: Enfield, New Hampshire
7 Clinic: South Londonderry, Vermont
8 Travel New York, New York USA - Copenhagen, Denmark

For all clinic information please contact Gunnar directly .
​Gunnar will be training and teaching in Wellington Florida and East Coast states during the 2017 - 2018 season .
Schedules will be updated on a regular basis
Contact Information
Gunnar Ostergaard: 352.875.1551 (US)
34011-45-53 77 34 34 (Denmark) *
*(Danish time is 6 hrs later than EST)
gunnaros@aol.com
Alternate Contact
Rachel Raos
Professional Assistant
raos3125@gmail.com
​